We're pleased to offer the following services at Nine Lives Cat Hospital:
Preventative Medicine
Personal Geriatric Care
Customized Immunizations and Disease prevention
General Surgery (including spays and neuters)
Hospitalization
Diet and weight management programs
In House Lab
Telemedicine Capability With The Institute Of Veterinary Specialists- Cardiology, Gainesville Fla.
EKG, Pulse Oxymetry and Blood Pressure Monitoring
Radiology
Flea Prevention & Parasite Control
Behavioral Problems
Daily Observation in Kitty Condo's
Client Education
Dental Health Care and Tartar Control
and more!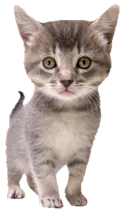 Appointments
Our receptionists and team will attempt to accommodate all requests to the best of our ability.
Payments
Nine Lives Cat Hospital accepts payment via cash, check, MasterCard, Visa, AMEX, Discover & CareCredit. So that we may continue to provide you high quality service utilizing the best medical technologies, we request that payment be made at the time services are rendered.
We provide estimates for all surgeries and hospitalizations. If you have not received an estimate, you are welcome to request one at any time for your expected charges.