Welcome to Nine Lives Cat Hospital
Your feline Veterinarian in Sunrise, FL
(954) 846-0023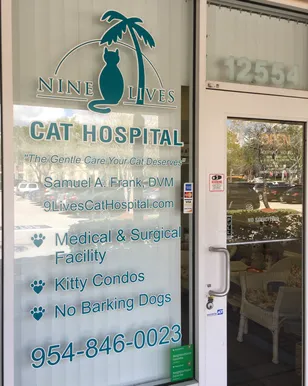 If you live in Sunrise or the surrounding area in FL, then you have picked the perfect site to find a veterinarian specializing in feline medicine.
Nine Lives Cat Hospital was established in 1997 and is solely owned and operated by Dr. Samuel A. Frank. Our hospital's mission is to practice the highest quality Feline medicine and surgery in a compassionate and loving environment. Nine Lives Cat Hospital is specifically limited to the Feline Species and their unique needs; Our highly trained staff is dedicated to providing the gentle care and loving compassion your cat deserves. Nine Lives Cat Hospital offers the highest quality Feline care with an emphasis on individual client needs that you will not experience at any other animal hospital!
We have a number of resources for you to learn about how to take better care of your pets. Browse around and look at our articles and pet videos. The best veterinary care for animals is ongoing nutrition and problem prevention. If you want to ask a question call (954) 846-0023 or email us and we'll promptly get back to you. Our Sunrise veterinary office is very easy to find. See directions on our Contact Us page if you live in Sunrise or the surrounding area.
At Nine Lives Cat Hospital, we treat your felines like the valued family members they are.
Dr. Samuel Frank
Sunrise Veterinarian | Nine Lives Cat Hospital | (954) 846-0023
12554 W. Sunrise Blvd.
Sunrise, FL 33323
---
Take Paws: Cat Well Checks with Samuel A. Frank, DVM